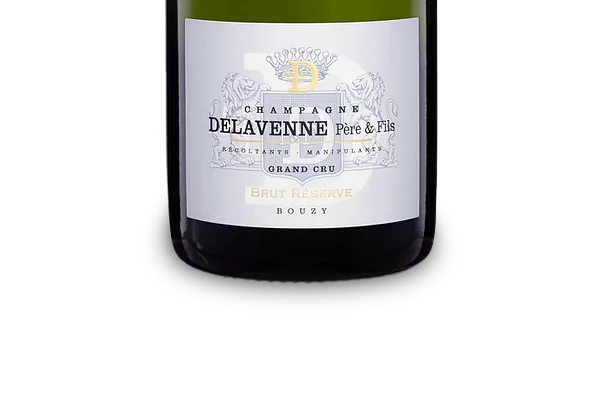 Delavenne
For four generations, we have strived to pass on our love of the vine and wine by producing a champagne that will perpetuate its name throughout time.
Location: Bouzy
Region: Montagne de Reims
Grapes: Chardonnay, Pinot Noir
Champagne: Grand Cru
Characteristics: Pleasantly acidic, lots of structure, elegance and balance, style and character
Organic certification: HVE + VDC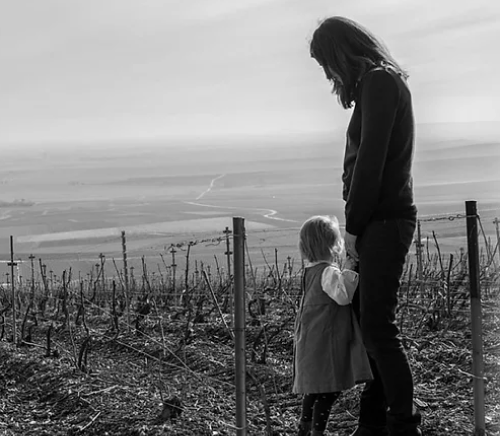 Our champagne is the reflection of the terroir it comes from and of the love of the men who patiently created it ...
Four generations of our family have been striving to convey their love for wine and vine, by making champagne which is certain to perpetuate its name for a long time.
Each of our cuvées is prepared with passion and skill, and expresses what is best in its terroir. Discover a range of aromas, suited for every occasion.
We also produce Bouzy Rouge, in its best vintages. Bouzy Rouge is the best-known of "Coteaux Champenois", the name of which was protected as an AOC in 1974. It is a type of non-sparkling, red wine produced in the Champagne area.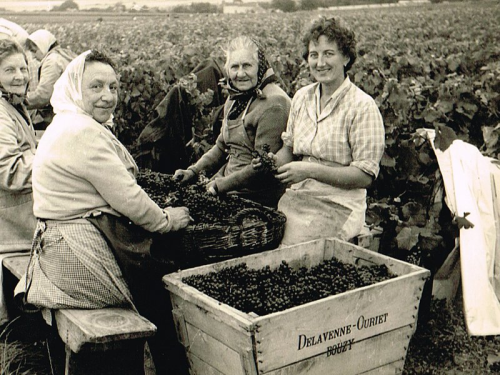 We are delighted to present our family estate - our expertise is being passed down from generation to generation, four of them now, always in keeping with the traditions of the Champagne region and the values of our family estate.
We are aware of environmental issues and wish to preserve the quality of our land which will be handed down to our children.
This is why we opted for integrated agriculture, taking it further whenever possible, treating the protection of the environment with the utmost respect
Our goal is to produce high quality champagnes that will delight you year after year.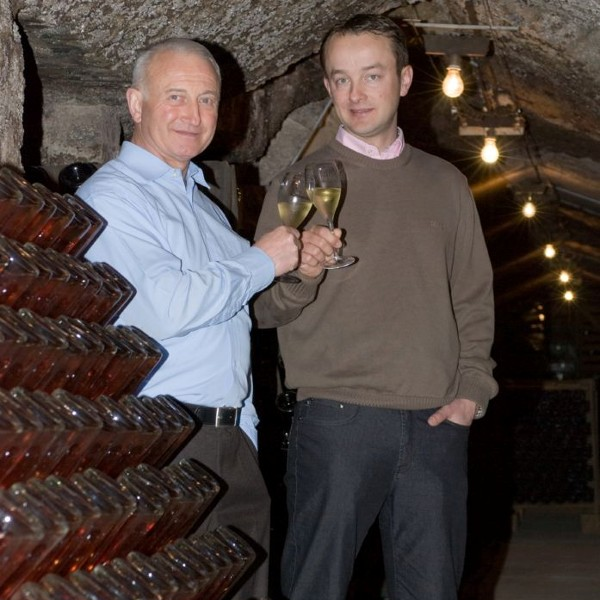 We are récoltants-manipulants.
This is a classification for Champagne producers who only vinify, make and market champagne from their own grapes. It is recognisable by the RM mention on the label.
This classification, a sign of our independence, enables us to control every stage of the production, as well as the quality of our champagnes:
We own the land we work ourselves.
We harvest the grapes of our vineyards only, and we press them at the estate, in our own family press.
The vinification process takes place in our own cellars.
This way, we remain close to our vineyards and keep hold of the quality of our production.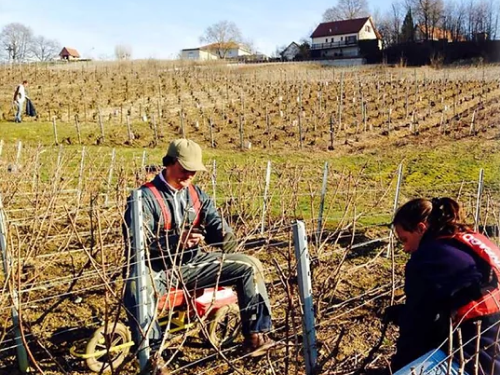 All year long, Champagne vineyards require demanding, daily work for it to be controlled and yield the best it has to offer: pruning, binding, tying, trimming, etc. These processes are mainly performed manually; they are at the heart of our activity.
For all of our estate, which is classified as a Grand Cru, we work the land with the methods of integrated winegrowing: maintaining the soil and letting weeds grow in the parcels, mating disruption, use of phytosanitary products, only when needed, waste management, traceability, etc.
And whenever it is possible, we take it further by adopting techniques used for organic agriculture
It is essential for us to respect what nature has to offer, which enables us to produce high quality grapes.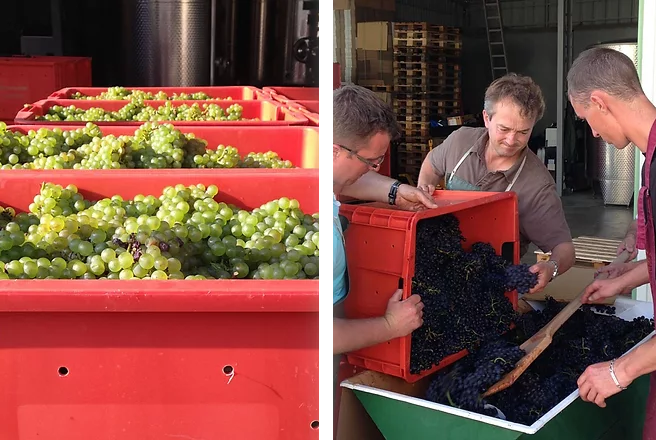 The harvest, in the Champagne region, is always done manually. The crushing of the grapes is performed immediately after the harvest, each growth at a time and each grape variety at a time, on the estate, in our own press.
Each juice is identified and placed in a separate vat, so that they can each reveal their own qualities. Those qualities will be used judiciously during the blending phase, which is skilfully and passionately performed by Jean-Louis and Jean-Christophe Delavenne.This subtle assembling of grape varieties, from the three growths of our estate, is what enables us to offer our range of champagnes.
This subtle combination of grape varieties from the three years of our vineyard leads to our different champagne qualities.
All these efforts are rewarded by obtaining high quality champagnes, more crisp and more fruity, which age better and clearly express the typicity of their terroir.
We let our wines evolve in vats as naturally as possible. This natural process of vinification is a long and subtle one. It requires irreproachable hygiene, daily checks and much patience. We only bottle in July, rather than in February, as tradition has it

As opposed to the general practice in Champagne, we do not perform malolactic fermentation. This technique requires great skill and attention.

Finally, our champagnes age in our natural cellars, carved out of the local chalk, for a minimum of three years - longer for vintage cuvées. This means that they are ready to be drunk as soon as they are bought.
Our champagne is made with two varieties only: Pinot Noir and Chardonnay.
Pinot noir (black grapes) is known for its aromas of red fruit and a clear structure.
Chardonnay (white grapes) gives wines delicate aromas, floral and citrus notes, sometimes minerality.
Skilfully blended by Jean-Louis and Jean-Christophe Delavenne, these two varieties convey the fruitiness and a bouquet quality which we know how to highlight in our production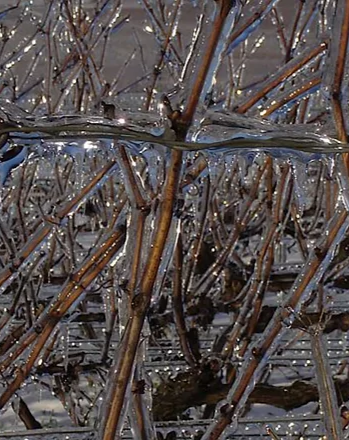 Ambonnay is another Grand Cru classified terroir.
Ambonnay is another Grand Cru classified terroir.
It is located 2 km east of Bouzy. The main grape variety there is Pinot Noir (black grapes) which combines body, fruit aromas and strength in our wines.
Bouzy and its famous vineyard-covered slopes are part of the Côte des Noirs.
Classified as a Grand Cru since 1895, it enjoys due south exposure, unique in the Champagne region - explaining the grapes' maturity and exceptional quality.
Cramant, south of Epernay, is the flagship of the famous crus on the Côte des Blancs.
Classified as Grand Cru, the wines produced there combine suppleness and finesse, with lighter aromas, synonymous with crispness and elegance.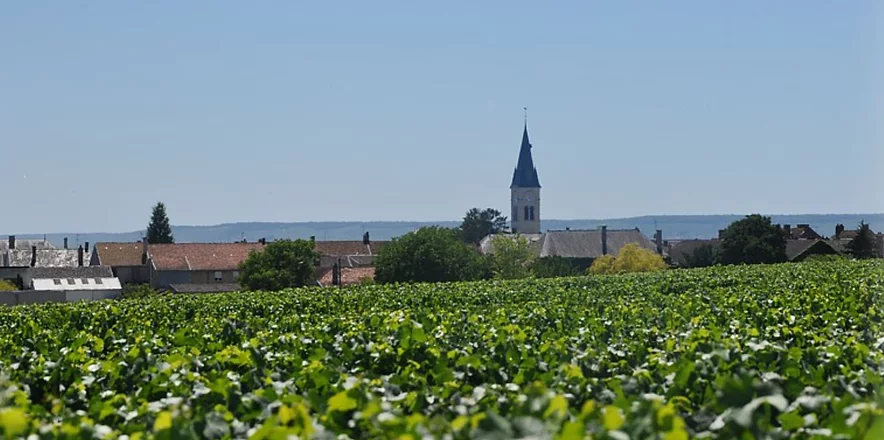 Bouzy is a delightful winegrowers' village
Located on the south slopes of the Mountain of Reims, between Reims and Epernay, the capital of Champagne. It is the cradle of our family estate, and the reputation of the wines grown here goes back to the time of royal courts in France, in particular that of the Sun King, Louis XIV.